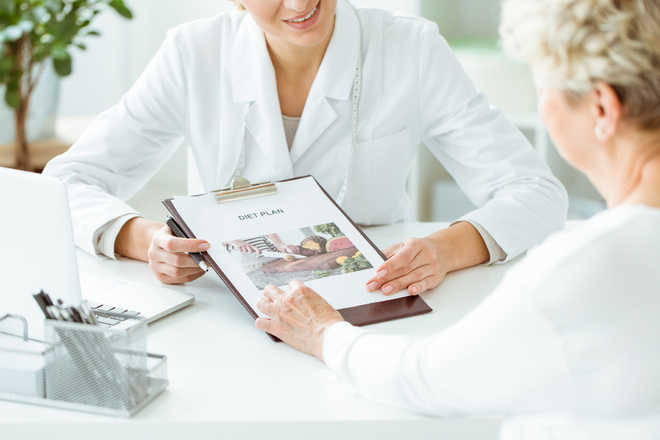 Pervin Malhotra
Q. I have completed Class XII with science (PCB). While my parents are keen that I go for MBBS, and made me take coaching for NEET, I am very keen on specialising in Nutrition & Dietetics. Could you please tell me if this is a good idea and what universities offer this course at the bachelor's level?
— Avantka Khandelwal
A.One of the biggest mistakes that students (and their parents) make is to think that career options in healthcare are limited to becoming a doctor or a surgeon or to think that studying pharmacy is all about opening a medical store. Healthcare is a specialized field and requires professionals such as medical writers, hospital managers, nutrition and wellness experts, pramedics, technicians, pharmaco-vigilance specialists, public health specialists amongst several others.
Being one of the fastest growing sectors, there's no dearth of career opportunities in healthcare.
The same goes for Nutrition & Dietetics which offers tremendous possibilities– both as an academic discipline as well as in practical application. With India's healthcare market expected to touch USD 372 billion by 2020 and introduction of the world's largest government-funded healthcare scheme, Ayushman Bharat launched recently, this specialization which has a shorter learning curve can give you a sharper edge when it comes to jobs in private clinics and hospitals, health clubs, gyms and spas, or in self-employment.
Those interested in further studies can follow up their BSc in with M.Sc., M.Phil. and Ph.D in the subject.
Eligibility for pursuing this course is class XII with Physics, Chemistry and Biology (50% agg).
However, some universities also accept Botany/ Biotechnology / Biochemistry /Zoology/ Computer Sc in place of Biology.
Admission to these courses is based on performance in the relevant entrance exam
Some colleges admit student's on the basis of scores in the qualifying exam, i.e. class XII.
 The duration of these career-oriented courses varies between 3-4.5 years, depending on the institute.
Traditionally, Nutrition & Dietetics formed part of the Bachelor's in Home Science courses (BA & BSc) that are offered across universities.
However, a relatively smaller number of universities (26) now offer specific courses in Nutrition & Dietetics at the Bachelor's level (BSc) itself (the rest are all at the PG degree and PG diploma level). The latest entrant in this field being the UPES School of Health Sciences, Dehradun (www.upes.ac.in) which has launched a special BSc programme in Food, Nutrition & Dietetics   from this academic session.
Besides Delhi University which offers BA in Nutrition & Health Education (only for female students) at three colleges, you could also check out Lovely Professional University, Jalandhar (www.lpu.in) which offers B.Sc (Nutrition & Dietetics), Manav Rachna International Institute of Research & Studies, Faridabad, Amity University, Sharda University among others that offer this course.
---
Which Big Data Analytics courses can I pursue?
Q. I completed my BTech last year. I have been working in as a junior programmer but wish to become a data analyst, especially in the field of Big Data analytics. How can I prepare myself while still continuing in my job? 
— Ritesh Sabharwal
A.You're on the right track! Companies are always on the look-out for the right people in Big Data expertise, but many people are confused about how to prepare themselves for careers in Big Data.
Hadoop and MapReduce are amongst the widely adopted tools in the market which are then supported by database languages such as NoSQL, Hive etc.
There are some good Big Data training courses in India from organisations such as SimpliLearn, Edureka, Blue Ocean Learning, BigDataTraining.in, Jigsaw Academy, iClass Bangalore, AEGIS, and NIIT. To equip working professionals with industry-relevant knowledge, IIITs, Genpact & UpGrad have also teamed up to offer a postgraduate programme in Data Analytics.
Courses are also offered by  IIM-A/B/C and ISB, but these are generally focused on business analytics. If you intend to pursue a Big Data course online, then check out MOOC providers such as edX and Coursera.
["source=tribuneindia"]