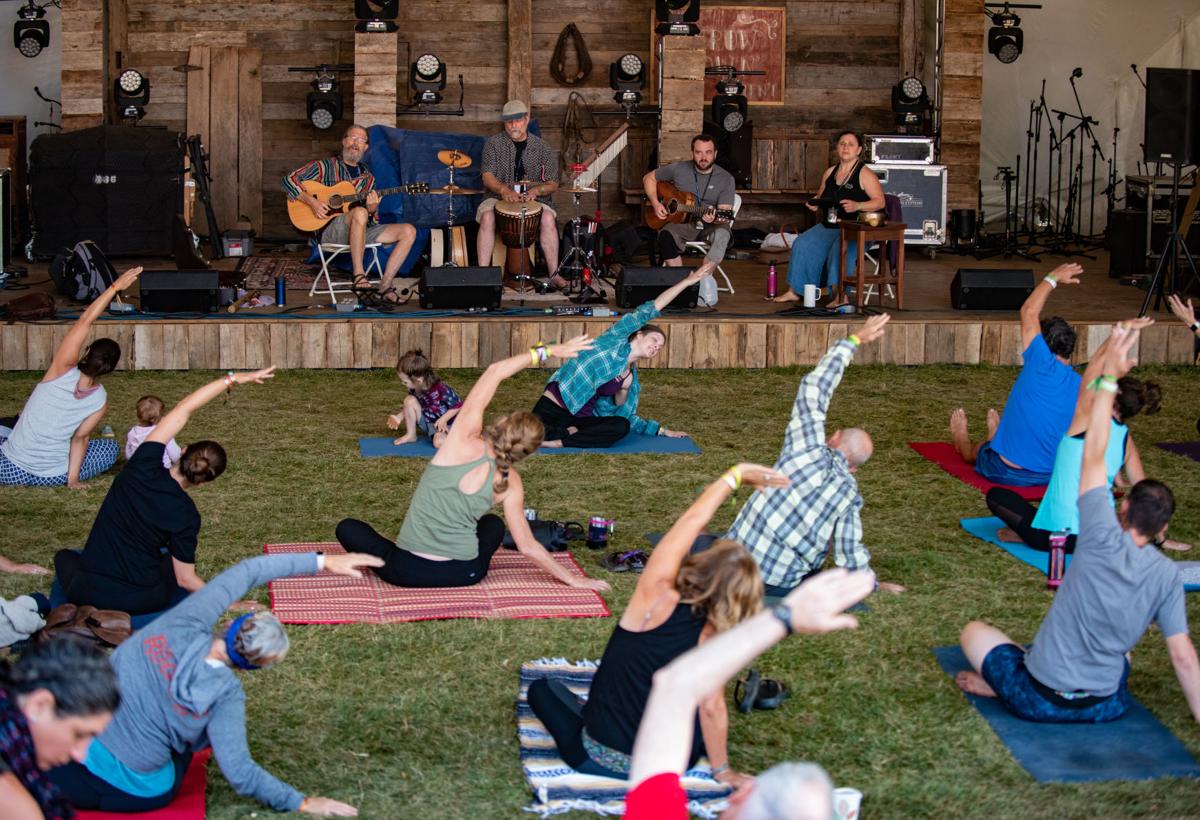 ROANOKE — Many FloydFest revelers wake up each morning at the festival looking to their apps or festival guides to find out what's next. Many others are consulting one hangover cure or another.
On Sunday morning, at least 100 took advantage of yoga instruction.
Most of them appeared familiar with the moves, as instructor Thea Vincenti guided them with a positive tone through such poses as cat tuck and tilt. Two other women roamed the large covered space with Vincenti, whispering instruction and helping with form.
At least one participant was struggling through. Kaden Short, 11, lay still on his stomach as his mother, Myriah Davis, whispered encouragement to him, then walked back a few feet. He was on her yoga mat. His sister — 9-year-old Jordan Short, an experienced poser — was nearby.
It was Kaden's first time trying yoga and the first FloydFest for him and his sister. Davis came last year, and she brought both her kids this year from their family home in Athens, Ohio.
"It's amazing. I love it," said Davis, a regular yoga practitioner, of the morning practice and the festival itself. "It takes [the children] out of their comfort zone. A lot of them need the experience of calmness to start their day.
"I'm going to come back every year."
A wide range of ages worked through the second of two morning sessions at the festival's Throwdown Tent, hearing advice from Vincenti that was applicable beyond the mat.
"Notice those catches and hesitations and stutters, and just breathe into any of those [things] you're feeling," she said.
About shakiness during the demanding exercises, she said: "It's a way that the body releases deep tension. [You'll feel] a little vulnerable, but try to stay with it."
Onstage, a Floyd-based band called Bhakti Kulani played about 90 minutes of original music best described as folk/raga, with lyrics drawn from multiple chants including Arabic, Jewish and American Indian. The band's dynamic was typically quiet, so as not to drown out the teacher.
Jeff Tiebout, playing guitar and singing lead and harmony vocals with the band, is the yoga sessions' organizer. He has been in charge of them since the first FloydFest.
Tiebout, who also is an instructor (Vincenti was among his students), recalled that back then, he might lead a session with four people.
"And that may have included myself," he said.
On Saturday, about 80 showed up for each of the two morning sessions, Tiebout (pronounced t-bow) said. About 50 came to each session on Sunday, the festival's final day, when lots of customers are moving out.
"So over these years, I've watched it grow into what this is," he said.
Live music has rarely been part of the early sessions, but Tiebout hopes that it will be more consistently in the mix.
Dorian Clowers, 34, of Roanoke did one of the Saturday classes and one on Sunday.
"It feels so good to check back in with your body after you're running up and down the hills," she said. "We're literally parked at the bottom of this gigantic mountain, so hiking up and down is hard on your body. It feels good to just stretch it out. It's also kind of a quiet time in a very loud environment."
As the session wound down, Vincenti encouraged the participants to live from their hearts, with an inner smile. Yoga practice enables them to be in contact with themselves, she said, but it's important to look outward, as well, she said.
"You don't know how much your kindness and your sweetness mean," she said. "It's powerful."
["source=richmond"]